The mission of Fairfax Elementary Library Media Center is to provide an environment where lifelong habits of learning, self-improvement and self-expression are encouraged and students can meet their educational and informational needs.
Top Reading Classes & Top Readers
Star Classes
First Grade
Second Grade
Third Grade
Fifth Grade
Star Readers
First Grade
Second Grade
Third Grade
Fifth Grade
Hornet Space Adventure? Let's see how many people can reach their AR Goal for the 1st Quarter! Excitement is in the air! Make sure you take your time to read and comprehend each story. Aim for your goal and you can accomplish it!
"Today a reader, tomorrow a leader." – Margaret Fuller School Motto! "I Can and I Will, Be Respect, Responsible, and Resourceful! eBooks By using any digital device that can access the Internet, students can read the eBooks anytime and any place. Please use the directions below to access our eBooks. Go to https://my.bigtimbermedia.com/ Username: fairfaxstudent Password: student Select any book you would like to read and enjoy!
Book Care
6 days ago
Book Care
What Happened to Marion's Book? by Brook Berg






Book Care Rules
Open your books carefully
Keep your books off the floor
Never throw your books •Keep books away from food
Never place books near your mouth
Always take your time and turn the pages of your books
Library Information
6 days ago
We are BLASTING
into
Greatness!
Library Hours
Monday - Friday
7:40 AM to 2:40 PM
All students will have access to thelibrary weekly with their class. Open library time is available each day for checkout, research or flexible class collaboration. The library media center will open at 7:40 am and will close at 2:40 pm each day. During special evening events, the media center will remain accessible during the duration of the event.
Teachers are encouraged to check out classroom collections on a biweekly or monthly basis. It is requested that books be changed regularly so that all students and teachers will have access to the titles.
Student Checkout Information
Pre-Kindergarten through 1st grade, you will be able to check out one book only.
Second-graders will be able to check out one book and the number will increase in September to two books.
3rd - 5th Graders can check out three books at a time.
Once you have returned a book you can then select however many books you have returned, from the shelf. If you happen to lose or damage a book it in any way, you must pay for it.
Our BOOKS Are OUT OF THIS WORLD!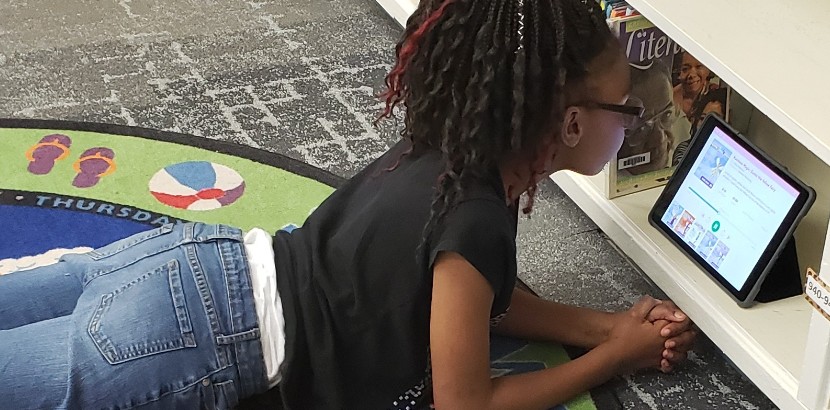 Meet the Media Specialist
Mrs. Ericka Jenkins - Library Media Specialist for Fairfax Elementary School.
I am a native of Five Points, AL. Home of the Pointers! After graduating high school, I received a performing arts scholarship at Southern Union State Junior College which is now known as Southern Union State Community College where I received my Associated Degree in Applied Sciences. I transferred from Southern Union to Auburn University. War Eagle! I earned my B.S. Degree in Early Childhood Education from Auburn University and began my teaching career in DeKalb County, GA. I taught kindergarten and second grade at Tilson Elementary School. I returned home to my roots and begin teaching for Chambers County School District at LaFayette Eastside Elementary School. I taught and worked in second grade, reading intervention and Library Media Specialist at LaFayette Eastside Elementary School. While working as the reading intervention teacher, I earned my M.S. in Library Media from University of West Alabama. I am currently working at Fairfax Elementary School where I am the Media Specialist. I have been teaching for a total of 20 years.
I am married to a wonderful man and we have four loving children. I have two daughters and two sons.
Sorry, but there was nothing found. Please try different filters.